Insurance Premium Pricing Structures - Stephen McHugh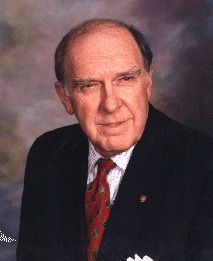 Stephen McHugh

Steve is a native Nashvillian and a product of local public schools. Upon graduating from Peabody College at Vanderbilt University in 1958, he entered the insurance business as an agent for the National Life and Accident (now American General) Insurance Company. After holding a number of field management positions, he entered their home office in 1965 where he served as director of Advanced Underwriting and later vice president and director of Agent Training.

In 1990 Stever chose to "retire" from agency management and spent the next two years as executive vice president and director of marketing for National Brokerage Company before taking the reigns as marketing director at HealthNet Management Inc. Columbia HCA attracted Steve in 1996 where he served as vice president of marketing and public relations, building a state wide network of physician/hospital organizations to support employer sponsored healthcare benefit plans. That experience made Steve a "natural" for his current role as regional sales manager and state director for American Medical Security Group.

Both a student and teacher of the insurance profession, Steve instructed the CLU/ChFC curriculum in Nashville for twenty five years. He currently holds adjunct faculty status with the American College, the Life Underwriters Training Council, the Life Management Institute, the University of Tennessee and the Wharton School of the University of Pennsylvania, where he instructs the curriculum leading to the Employee Benefit Specialist designation.

Steve has been a member of the NALU since 1958, and is past president of the Nashville Chapter of the Society of CLU/ChFC. He currently holds the post of president of the Middle Tennessee Healthcare Executives Association. Married to his college sweetheart Betty, they have two grown sons and five beautiful grandchildren. Both Steve and Peggy are active in their church as well as a number of civic and social groups.

---

Question 1 - Hello Steve, We continue to hear discussion regarding the high cost of medical care, poor reimbursement from payors and many payors loosing money. Are healthcare premiums at their lowest point? Will we only continue to see increases? by yvette on April 11, 2000

Answer 1 - Definitely we will continue to see increases as the cost of care rises. Rx is a significant component of the current increases we are seeing. Also an aging population which demands more and more sophisticated levels of care. Technological advances are a contributing factor as well. Plus , realistically , we have held premiums artificially low for the past few years as managed care squeezed the provider community. With the Government paying less and demanding more , there is an element of cost shifting to the private sector that is reflectwed in the rising rates we are seeing today. by Stephen McHugh on April 12, 2000
-----------------------------------------------------------
Question 2 - Steve, Why do employers want to pursue sponsored health benefit plans? You don't hear much about them anymore. Are they too expensive for individual employers? Have employers realized this is an not an area they are experts? Are they loosing too much money? Last question, do you know of any successful employer sponsored plans? by Luke on April 12, 2000

Answer 2 - Luke, Good Question. There is a very active market for "employer sponsored " plans among larger employer groups ( usually those with 100 or more employes and a stabilized work force. It offers a number of advantages for groups of that size;1) more flexibility in benefit architecture , 2)avooidance of numerous benefits mandated by the states ( these plans are governed by federal law ( ERISA ), and 3) if , in fact , the plan performs well in terms of cost of care , there may be significant savings for the employer . The plan sponsor can ( and does usually ) safeguard against catistrophic claims costs by securing " stop loss" coverage from an insurance carrier .

One of the big issues in congress today is a question of the scope of the various proposed " Patient Bill of Rights " legislation. Some would suggest that it only apply to " ERISA " covered plans , since the individual states heve the right and responsibility to regulate fully insured plans issued in their jurisdiction. by Stephen McHugh on April 12, 2000
-----------------------------------------------------------
Question 3 - When the topic is increasing insurance premiums I always want to know what happened to some kind of universal coverage? Socialized healthcare whatever you want to call it, if you keep telling me insurance is going up I am going to start wondering if we need a system like those in Europe, England or Canada—assuming of course we can create a better one than any of theirs. We behave in this country like health care is a right and become so outraged when our employer increases our payroll deductions (if we are working), or increased co-pays. Maybe we all just agree we want to continue to spend this big chunk of GNP on health care. If that's not our vote what are the other options? by pix on April 13, 2000

Answer 3 - Kate, I fear my answer will reveal a bit of a political bias on my part. Hving admitted that , let me support my response by sharing with you that I have for a number of years taught Economics and I tend to see things in terms of economic models . I hope you will forgive me one , or both of these .

Now to a hopefully measured response . I am personally convinces that the current amdinistrtion desperately wants to create a " National Health Plan " ( a one payer system )with another federal burocracy ( pardon the spelling ) overseeing the program. For those who support such a system ... I would point you to the success ( or notable lack of same ) on behalf of those less free market based national economies where it has been TRIED . Their systems are plagued by long delays in the delivery of care, the rationing of care ( the government or an agency thereof determines what conditions will be treated , where , when and by whom ,if at all ). Add to this the further complication of a notable lack of funds .

For those who are currently dissatisfied with managed care in this country , I would suggest they take a careful look at how Medicare and Medicaid have faired . Even with the efforts to care for the elderly ( I' can say that... I'm eligible for Medicare ) and the poor and disabled ... the federal government , with it's vast resources , has been unable to control the increasing cost of care and the rising number of uninsureds.And there is the question of how well we have kept our promise of ongoing healthcare for our veterans . These are prime examples of federally created and administrated " National Healthcare Plans ".

I for one , am a firm believer in the creativity and productivity of the free market . With reasonable incentives in place , and a recognition of realities that rather than simply Rights , we must also address RESPONSIBILITIES , I believe an appropriate partnership can be established between government and the private sector which can introduce efficiencies into the way we care for and care about our people . I don't think either party can achieve a great deal in this regard however , unless and until we each begin to take some measure of responsibility for the status of our own health .

Sorry for the long winded dissertation , but in my view , there is not quick and easy answer. by Stephen McHugh on April 14, 2000
-----------------------------------------------------------
Question 4 - I think your answer illustrates that we have examples of single payer type systems that have failed (for our veterans, elderly, and truly needy citizens). I am interested in what a responsible partnership would look like between government and the private sector? I have always thought that employers that hold the purse strings, or more appropriately the covered lives, have tremendous power to make change. However, they have been unable or unwilling to use it. I am guessing by your use of the word responsibility you are also referring to personal responsibility for health. Where should this fit into the equation about insurance premiums pricing structure? by pix on April 14, 2000

Answer 4 - Your assumption that employers hold a great ptential for creating (demanding ) change is accurate in my view. The fact is it was the employer
community that demanded change some 8 to 10 years ago. They were the stimuli for the creation and expansion of HMOs. Isn't it interesting that now, the employees that the ERs have tried to protect are screaming for more freedom of choice, while complaining bitterly about being asked to pay a greater part of the rising cost of healthcare. Managed care works. It is imperfect, but conceptually sound.

WE must either ( or both ) contain utilization and or unit price. The best possible scenario from my perspective is a combination of both these components. Utilization can best be controlled by the consumer (patient). In a free market that initiative is usually wrapped around out-of--pocket cost. (Marginal utulity to you economists). Our third party payor system has removed the consumer from the decision making process about what services they will consume, based on what it costs to so do.

I think no small part of the governments' role in this is to promote and support a regulatory environment in which the employer is allowed to require some levels of compliance from the employee in terms of taking personal responsibility for their lifesyles and healh habits. Disease management programs can aid greatly in this regard, as well as granting the employer (who is in fact the payor) the right to hold the employee responsible for increased cost in healthcare plans comensorate with that employees compliance, or lack of same, with those programs initiated to control those costs.

I hope this has given you some food for thought. I appreciate your interest and your well thought out questions. Steve McHugh by Stephen McHugh on April 20, 2000
Printer-friendly format
---
---